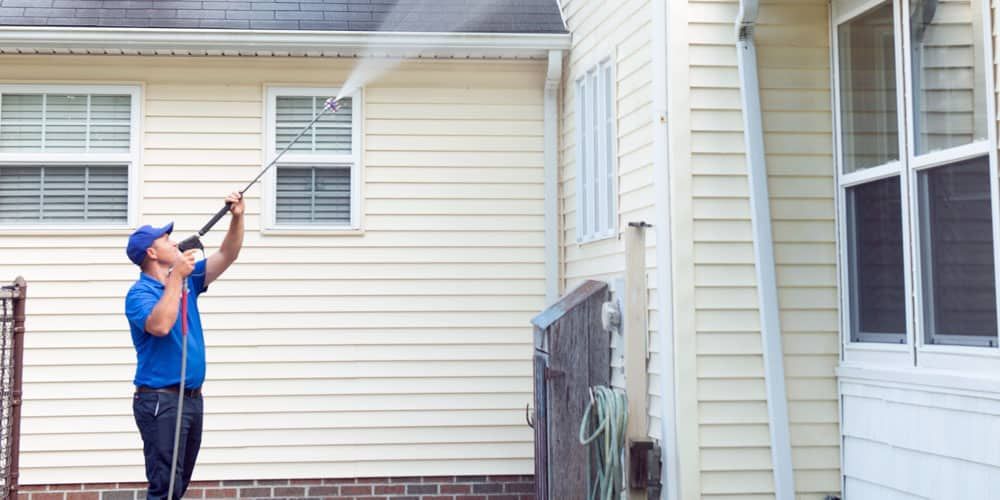 Cleaning your home's siding can be a difficult process, but with the appropriate advice and techniques, it can be made simpler. We at Energy Exteriors NW in Washington know how important it is to maintain the external beauty of your home. Here are some pointers to help you efficiently clean your siding:
1. Inspect Your Siding
Before you begin the cleaning process, inspect your siding to identify any areas that need special attention. Look for any cracks, chips, or discoloration. This will help you determine if your siding needs to be repaired or replaced before cleaning.
2. Choose the Right Cleaning Solution
There are many cleaning solutions available for cleaning your siding, but not all are suitable for all types of siding. It is important to choose the right cleaning solution that is safe for your siding material. A mixture of water and mild detergent is usually safe for most types of siding.
3. Use the Right Tools
Using the right tools is essential for effective cleaning. A soft-bristled brush or a pressure washer can be used for cleaning your siding. However, if you are using a pressure washer, make sure to use the lowest setting to prevent damaging your siding.
4. Start from the Top
Start cleaning your siding from the top and work your way down. This will prevent dirty water from dripping down onto already cleaned areas.
5. Rinse Thoroughly
After cleaning your siding, rinse it thoroughly with a hose to remove any remaining soap or cleaning solution. This will prevent streaks from forming on your siding.
By following these tips, you can keep your siding looking clean and well-maintained. If you have any questions or concerns about cleaning your siding, feel free to contact Energy Exteriors NW Washington for expert advice.
At Energy Exteriors NW, we believe that regular upkeep is important for preserving your home's beauty and value. A crucial component of that is maintaining the exterior of your property. Siding can develop dirt, grime, and other debris over time, turning it dull and ugly. We are providing these siding cleaning suggestions as a result. We are aware that maintaining the appearance of your siding can be a challenging and time-consuming task, but it is necessary. The advice we've given above is meant to make siding cleaning safe and efficient for you. By adhering to these suggestions, you can rest assure that your siding may remain spotless and well-maintained for many years.
At Energy Exteriors NW, we take pride in providing a comprehensive array of services aimed at maintaining the appearance and structural integrity of your home's exterior. Our dedicated team of experts is committed to delivering top-notch solutions tailored to meet your specific needs. From siding repair and replacement to thorough cleaning, we offer a wide range of services that can help transform and enhance the aesthetics of your property.
When it comes to siding repair, our skilled technicians possess the knowledge and expertise to address any issues you may be facing. Whether it's fixing a small section or handling a complete overhaul, we utilize high-quality materials and advanced techniques to ensure a durable and seamless finish. Our goal is to not only restore the functionality of your siding but also enhance the overall curb appeal of your home. If your siding has seen better days and requires replacement, we can guide you through the process and help you choose the best materials that align with your preferences and budget.
Our extensive selection of siding options includes various styles, colors, and textures, allowing you to achieve the desired look for your home. We work diligently to install the new siding with precision, paying attention to every detail to ensure a flawless result that enhances both the beauty and protection of your property.
At Energy Exteriors NW, we understand that each home is unique, and we take the time to listen to your needs and preferences. Our experienced consultants are available to provide personalized recommendations and assist you in making informed decisions that align with your vision. We prioritize customer satisfaction, and our team is dedicated to delivering exceptional results while ensuring a seamless and hassle-free experience for you. If you're looking to revitalize the exterior of your home, contact us today to learn more about our services and schedule a consultation. We are passionate about helping homeowners like you keep their homes looking great, and we look forward to partnering with you to achieve the results you desire. Trust Energy Exteriors NW for all your exterior home improvement needs.