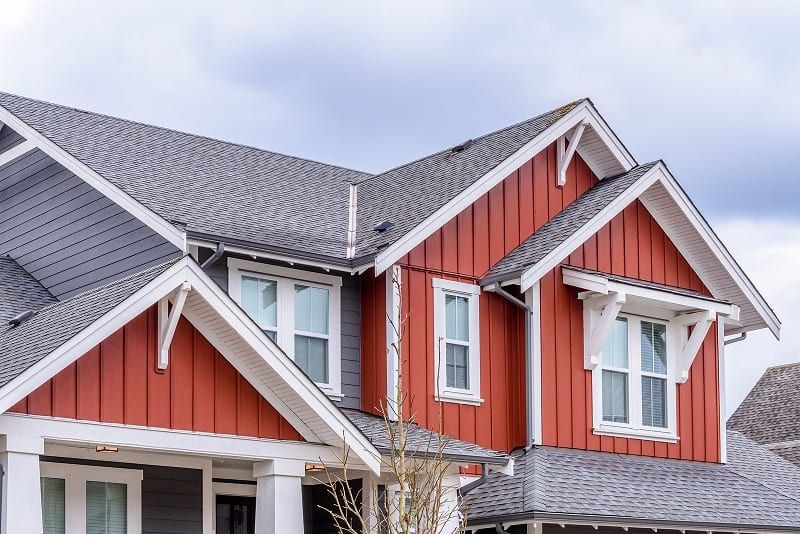 Boost the visual appeal of your home by upgrading your siding to the superior Hardie panel vertical siding collection. Engineered with top-quality fiber cement technology, this siding is designed to withstand extreme weather conditions without rotting, peeling, blistering, or cracking. Not only will your home be protected, but you'll also increase its resale value with a stunning new siding replacement from James Hardie. Plus, no matter what style of home you have, the Hardie panel vertical siding collection is a perfect choice. With its cutting-edge ColorPlus technology baked-on finish, the color will remain vibrant and intact for years to come without fading, chipping, cracking, or peeling. So why wait? Give your home the facelift it deserves with Hardie panel vertical siding.
Choose Hardie Panel Vertical Siding
Ready for real inspiration? Check out our collection of James Hardie products on real Hardie homes. Our HardiePanel® vertical siding is a popular choice for those seeking both style and durability in a siding system. With a range of colors and styles to choose from, HardiePanel can enhance your home's curb appeal without compromising its protection from the elements. Our siding falls into the HardieZone® 5 category, providing superior protection in cold weather and volatile temperatures. It's also five times thicker than vinyl siding, can withstand hail, and debris impact, and winds up to 150 miles per hour. Plus, it comes with a 30-year non-prorated, transferable, limited warranty. For a traditional board-and-batten look, you can add HardieTrim® boards or combine them with other James Hardie products like HardiePlank lap siding. Contact us today to learn more about our siding financing and payment plans.
Siding options typically include wood or vinyl, with wood offering a charming, vintage aesthetic but being vulnerable to weather damage and deterioration. Vinyl, on the other hand, is a more affordable and durable option than wood but lacks the fireproof and weatherproof qualities of fiber cement siding. This type of siding, made from sand, cement, and cellulose fibers, is a popular choice today and was first developed by James Hardie in the mid-1980s. With its ability to imitate the texture and warmth of real wood, fiber cement siding has become a top choice for homeowners looking for a low-maintenance, cost-effective option.
Is HardiePanel better than Vinyl siding?
HardiePanel, a type of vertical siding from James Hardie, is crafted from high-quality fiber cement, a blend of sand, cement, and tiny cellulose fibers. This ultimate construction material is durable and visually appealing, available in a variety of colors, textures, and four unique styles.
While both vinyl siding and HardiePanel have their pros and cons, HardiePanel's fiber cement construction makes it a superior siding option. Withstanding moisture and rot, severe weather, pests, fire, and the test of time, it provides your home with the ultimate protection.
Looking for siding replacement services? Contact Energy Exteriors NW today to learn more about our products and services.